A CENTRAL FLORIDA TATTOO DESTINATION
SINCE 2003
CELEBRATING 20 + YEARS OF CUSTOM TATTOOING
Welcome to White Buffalo Custom Tattooing & Piercing
We are your trusted tattoo and piercing shop in Dunnellon Central Florida with over 20 years of experience in providing top-notch body art services to the communities of Ocala, Hernando, Inverness, Crystal River, Beverly Hills, and beyond. Our team of experienced artists and piercers are dedicated to creating unique and personalized designs that reflect your individual style and personality. We take pride in our commitment to quality, cleanliness, and customer satisfaction, making sure that each client leaves our shop feeling confident and satisfied with their new tattoo or piercing. Visit us today and experience the difference that over two decades of experience and expertise can make in your body art journey.
Let us bring your ideas to reality
At White Buffalo Tattoo, we pride ourselves on our team's versatility and ability to create custom designs based on our clients' ideas and references. Our skilled artists are experienced in a wide range of tattoo styles, including American traditional and realism, among others.
We understand that getting a tattoo is a significant decision, and we take our work seriously. Each tattoo we create is a representation of our artistry and our clients' vision, which is why we strive to provide exceptional service and quality work.
We recognize that a tattoo is not just a piece of art but a permanent part of our clients' bodies, which is why we always strive to exceed expectations. Our clients' satisfaction is essential to us, and we aim to leave a lasting impression with every tattoo we create.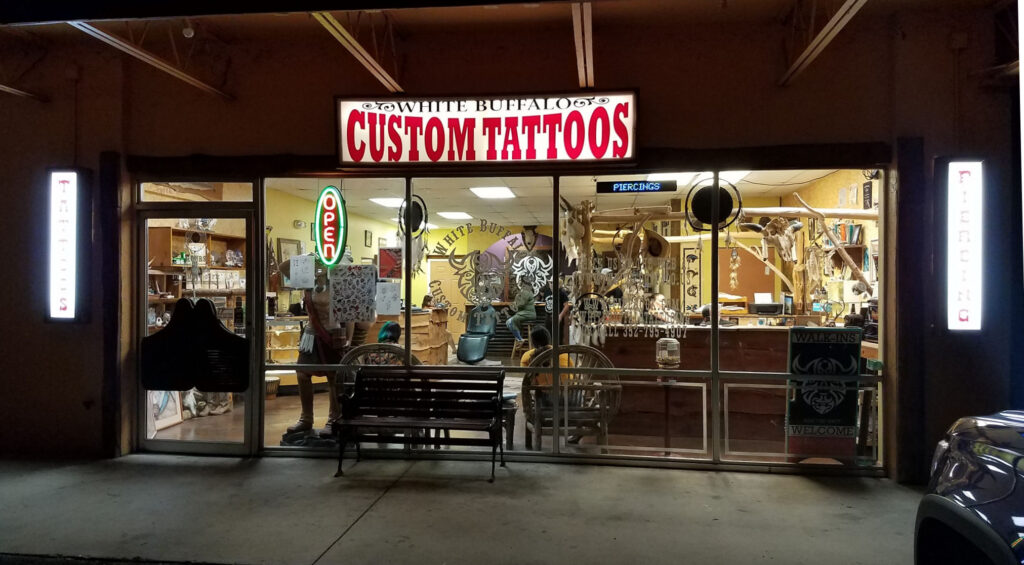 Our goal is to create a piece of art that our clients will cherish for the rest of their lives.
please call on major holidays
Vivamus molestie nisi ac tristique